Environmental history is "the study of interactions between culture and nature." So let's discuss the history of Monarch butterflies (Danaus plexippus) and how human populations have influenced this species over time. Monarch butterflies are bright orange with distinctive black and white markings. These butterflies lay their eggs on milkweed plants, which serve as the only food source for the growing caterpillars. Milkweed contains glycoside toxins that are harmless to the Monarchs but poisonous to predators, a very useful defense mechanism. Once the caterpillar goes through several developmental stages or instars, it forms a chysalis and eventually emerges as a butterfly.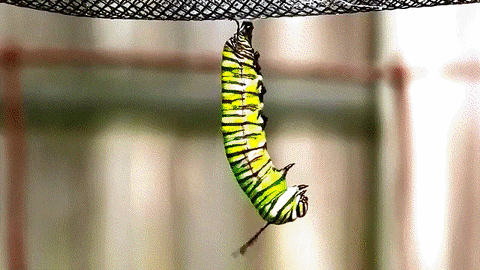 North American Monarch butterflies are best known for their 3,000 mile long migratory journey, the mechanisms of which still baffle scientists to this day. Their migration, which spans several generations, takes them as far north as Canada and, during the winter months, as far south as Mexico City. In early Spring, Monarchs can be spotted in Texas and as the summer season rolls around, they migrate throughout the northern states up into Canada. Monarchs spend their winters in Mexico to avoid the freezing temperatures in the northern states. Most monarch butterflies only live for a few weeks. The last generation of each year is the over-wintering generation, which can live upwards of eight months in Mexico. Unfortunately, Monarch butterfly populations have declined by a staggering 90% in the last 20 years.
Recently, the Texas Butterfly Ranch hosted the third annual Monarch Butterfly and Pollinator Festival from October 19 through October 21, 2018. The festival launched with an informative forum on the future of Monarch butterflies. The forum, titled "Butterflies without Borders: The Monarch Butterfly Migration and our Changing Climate," discussed the ambiguous future of the Monarch Butterfly. The issues discussed included: the influence of GMOs and pesticides on migration patterns, availability of nectar and host plants, climate change, and the controversial border wall proposed by the Trump administration. The panel consisted of the following experts:
Karen Oberhauser, Steering Committee Co-Chair of Monarch Joint Venture and Director of the Arboretum in Madison, Wisconsin.
Marianna Treviño Wright , Executive Director of the National Butterfly Center, Mission, Texas.
Rebeca Quiñonez Piñon, Monarch Outreach Coordinator, National Wildlife Federation, Austin, Texas.
Carey Gillam, author of "Whitewash: The Story of a Weed Killer, Cancer and the Corruption of Science," Kansas City, Missouri.
Robert Rivard, of the San Antonio news website, the Rivard Report served as moderator.
In July 2017, a crew of workers contracted by U.S. Customs and Border Protection illegally chopped down hundreds of trees, shrubs and other vegetation on private property belonging to The National Butterfly Center in Mission, Texas. The land "serves as a habitat for more than 400 endemic and migratory species, including monarch butterflies." Marianna Treviño Wright, the Executive Director of  The National Butterfly Center, describes the proposed border wall as a"waste of taxpayer dollars and an environmental disaster". The National Butterfly Center has 11  distinct ecosystems and is home to a variety of Texas wildlife. The proposed border wall would be devastating for this wildlife, eradicating native habitats and host plants for butterflies, as well as isolating populations from each other. In addition, not all birds and butterflies will be able to fly over the 30 ft. vertical wall, cutting off migratory routes. The border wall would adversely impact "841 vertebrate species, 42 species of amphibians, 160 reptiles, 452 bird species, 187 mammals, and plant, fish, and invertebrates totaling 10,000 or more," with many of these species likely facing extinction.
Future
Fortunately, there are many things you can do to ensure a future for Monarchs and other pollinators:
Create a healthy habitat garden for Monarch butterflies. For resources, click here. The Texas Butterfly Ranch is commemorating the Tricentennial with a pledge to build 300 pollinator habitats —

300for30

0.
Get involved in programs around your city. Through the National Wildlife Federation's Mayors' Monarch Pledge

, U.S. cities, municipalities, and other communities can complete action items aimed at enabling Monarch species survival and

re-population

. These action items include creating habitats for the monarch butterfly and pollinators, educating citizens about how they can make a difference at home and in their community. San Antonio is actually one of only three

Monarch Champion Cities

throughout Canada, Mexico, and the United Sates that has committed to every action item on the list. 

Get out there and vote! If you believe that climate change is a pressing issue and want to ensure that Monarchs and other pollinators are made a priority, you must be politically active.
Habitat loss, overuse of pesticides, pollution, and looming border walls are abhorrent for many reasons but are also threats to the survival of pollinators and many other species. But you can make a difference, get out there and let your voice be heard.